D701 Compact Inkjet Printer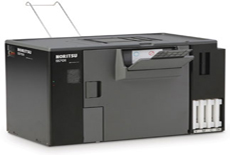 D 701 Compact IntJet Printer
Noritsu Koki Co., Ltd. is pleased to announce the release of the D701, an environment-friendly compact dry minilab that, as a pioneer for new dry minilab solutions, is the ideal product for progressive printing businesses.

The D701 is a compact inkjet minilab that does not use any photofinishing chemicals, which means it is easy to install in just about any type of location, is easy to perform maintenance for, and is friendly to the environment. This space-saving printer opens the door for those who were previously unable to install silver halide minilabs due to issues such as limited installation space and chemical handling.

The D701 uses a 6 gradation per-dot dye inkjet system with precise dot control to produce vivid prints with a smooth portrayal of a wide range of colors.

The D701 can produce high quality prints in sizes up to 254 x 914mm (10 x 36 inches), with excellent lightfastness and glossiness that is sure to please even die-hard silver halide print *1) fans. It can be used for low or mid volume print services or as a supplementary printer for retail outlets with QSS minilabs installed. By connecting operation software and consumer terminals to the D701, you can obtain the same functionality and easily provide the same services as QSS systems. Regarding D701 consumables, ink and paper will be sold exclusively by Noritsu Koki.

The D701 will be proudly displayed at 2008 International CES *2) (held from the 7th to the 10th of January at the Las Vegas Convention Center in Las Vegas, Nevada) as well as at PMA *3) (held from the 31st of January to the 2nd of February in the same convention center as 2008 CES International)

1. A photographic print that undergoes development processing after an image is exposed on photosensitive paper which includes silver halide and color fixing agents.
2. The International CES (Consumer Electronics Show) is produced by the Consumer Electronics Association (CEA). This annual event, which originated in 1967, is the largest consumer electronics show in the world.
3. PMA (The Photo Marketing Association) was established in 1924 and is the largest photo business related organization in the world, with branches in major cities in the US and other parts of the world. The PMA International Convention and Tradeshow is an annual exhibition of photo and imaging related equipment.

Main Features of D 701 Intjet Printer

1.

Friendly to the environment

The D701 does not use any chemicals, nor does it produce any waste solution. The absence of chemicals makes it not only environment-friendly but also user-friendly, as it can be installed almost anywhere and is easy to provide maintenance for.

2.

Newly developed inkjet system - 4 colors, 6 gradations per dot *

This new dry printer employs a 4 color dye ink system with 6 gradations per dot to produce vivid colors, and it also uses a new technology that adjusts the size of the dots when they are ejected onto the paper. This enables the individual dots to be output in 5 different sizes, which allows for a range of 6 gradations per dot including the no dot (white) variation. The result is high quality prints with fine gradations.    

Inkjet technology was provided by Seiko Epson Corporation.

3.

Long lasting colors

Prints made with conventional dye ink tend to fade quickly, but the new ink used in the D701 has an improved molecular structure so it is able to withstand light and ozone, thus producing prints that boast excellent image permanence.

4.

Compact design

The footprint of the D701 is a mere 0.43 square meters (including the RIP PC). The RIP PC can also be separated from the printer, in which case the footprint of the printer is only 0.35 square meters. Furthermore, if the optional Double Stack Cabinet is used, you can install two printers in the footprint of one.

5.

Prints up to 254 x 914mm (10 x 36 inches) *

This printer can produce photos in sizes ranging from 3R all the way up to 254 x 914mm (10 x 36 inches), enabling a wide variety of print services.

*A paper width of 203mm or 254mm is required for prints with an advance length that exceeds 457mm.
The maximum advance length for print widths of 127mm and 152mm is 457mm.

6.

A capacity of approximately 650 prints per hour for the 4R (152 x 102mm) print size

In addition to its high capacity for 4R prints, the D701 also provides a capacity of approximately 250 prints per hour for 203 x 254mm (8x10 inch) prints and approximately 195 prints per hour for 254 x 305mm (10 x 12 inch) prints. This high capacity across the board makes the D701 a suitable solution for low to mid volume shops.

7.

Print sorter unit (Option)

The print sorter unit, which holds up to 8 orders, enhances workflow efficiency.

8.

Supports sheet paper

In addition to roll paper, the D701 also supports sheet paper ranging in size from 127 x 200 mm to 216 x 297mm. When setting both roll paper and sheet paper, it is possible to automatically switch between output from these two paper types.

The following features are also available with Noritsu Koki's QSS minilabs. These features expand the possibilities of the D701 and enable its users to print with the same operations as QSS minilabs.

9.

Operation software "EZ Controller" (sold separately)

The EZ Controller gives you the ability to easily perform many important functions such as PJP, order management, and value-added print creation.

10.

"AccuSmart™" image processing technology employed

Noritsu Koki's AccuSmart™ technology enables you to easily portray the natural beauty of the scene as viewed by the photographer when the picture is taken. This advanced technology not only provides superb quality for well photographed images, it also applies appropriate correction to less-than-perfect shots, resulting in extremely high quality prints regardless of the image source.

11.

A selection of film scanners to choose from (film scanners sold separately)

With the D701, you have three new film scanners to choose from. The HS-1800 supports a wide variety of film including 120, and the LS-600/LS-1100 support only 135 and IX240 film. You can also choose not to add a scanner, and instead use the D701 as a stand-alone printer.

12.

An array of options

The D701 supports the MD-2 Unit, QSS-Kids, Bravo II/Rimage CD writers, DVD writing and many other options to provide a scalable system that allows you to add new services as needed.
Ink

4 colors of dye ink
Volume500ml per color

Paper
Noritsu specified inkjet photo paper (glossy/semi-glossy)
Length of paper roll
100m

Paper widths
(Roll paper)

127, 152, 203, 254mm

Paper length
(Roll paper)

89 to 457 (914)mm
When the width is 203mm, 254mm. Option required.
When the width is 127mm, 152mm Up to 457mm.

Film formats
LS-600/1100 135, IX240  
HS-1800 135, IX240, 110, 120, 220
Film types
Negative, Positive, Black and White
Compatible input media
Standard
FD, CD-ROM, CD-R, CD-RW, DVD-ROM, DVD-R, DVD+R, DVD-RW, DVD+RW, DVD-RAM
Option

CompactFlash, SmartMedia, SD Card, Memory Stick, Microdrive, xD-Picture Card, etc.

Compatible output media

Standard

FD、CD-R、CD-RW、DVD-RAM
Option

CompactFlash, SmartMedia, SD Card, Memory Stick, Microdrive, xD-Picture Card, DVD-R, etc.

Estimated processing capacity
(prints/hr)

135 negative / positive (24exp) 

No panoramas intermixed.
With index prints.

Print size

 Scanner

(Approximate) Capacity
(prints/hr)
W127 X 89mm
[W5 x 3.5 inches]

 LS-600

600

 LS-1100

750

 HS-1800

750

W152 X 102mm
[W6 x 4 inches]

 LS-600

600

 LS-1100

650

 HS-1800

650
Repeat printing
W127 x 89mm [W5 x 3.5 inches]

750

W152 x 102mm [W6 x 4 inches]
650

Digital camera
(4 megapixels)

With digital camera correction

W127 x 89mm [W5 x 3.5 inches]

750
W152 x 102mm [W6 x 4 inches]
650
Digital camera
(6 megapixels)

With digital camera correction

W127 x 89mm [W5 x 3.5 inches]

750
W152 x 102mm [W6 x 4 inches]
650
1 Film scanner (LS-600, LS-1100, HS-1800) is sold separately.
2 Going through the EZ Controller (sold separately) .
3 Calculated according to Noritsu criteria. The actual capacity you achieve may be different.
Raj kumar Poddar - Kraj66650@gmail.com

September 20, 2023

Buy and Sell

Noritsu Qss green 2 lab prise & cortisone please send me

Raj kumar Poddar - Kraj66650@gmail.com

September 20, 2023

Buy and Sell

Wedding album lab parpose

Antonio verdejo - averlu73@gmail.com

April 22, 2023

Technical Support: Agfa, Konica, Kis, Doli

Hola necesito software de la kis 1710 y discos de la aplicación gracias.
Мы покупаем, продаем, ремонтируем и обслуживаем оборудование различных марок, таких как: